Safety at Work
The goal of our safety program is to eliminate workplace incidents and to provide a safe and healthy work environment for all personnel. At Transcona Roofing Ltd., the health and well-being of our employees, customers and sub-contractors' employees is of the utmost importance. Annually we review our work procedures and incorporate new policies that will allow us to perform our work safely and efficiently. We require all hazardous conditions to be neutralized before commencing any task and we will not sacrifice safety for the sake of expediency. Incident prevention is a shared responsibility which is to be practiced by all those involved on our projects.
For every project, large or small, we promote an attitude of non-tolerance towards incidents. We are committed to consulting and cooperating with all workplace safety representatives and workers in the further development of our safety and health program.
Transcona Roofing has been
COR™ (Certificate of Recognition)
certified since 2008. COR certification is the highest distinction available to Manitoba construction firms to verify their comprehensive health and safety program. COR certification is valid for 3 years and reviewed by the
Construction Safety Association of Manitoba (CSAM)
annually.
---
Our Safety Culture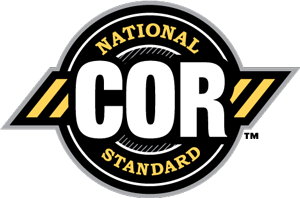 We pride ourselves in the safety culture we have created. Some highlights include:
All employees receive extensive and ongoing safety training.
All employees who install modified bitumen membranes and operate torching equipment have completed the CRCA National Torch Safety Program
Each crew has a trained health & safety representative.
Our 10 member health & safety committee meets quarterly to review our safety program with a focus on constant improvement.
We've recently celebrated our 10 year anniversary of being COR certified.
Use a state of the art cloud based Safety Documentation system.
We work with a 3rd party Safety Consultant to ensure an unbiased safety compliance.
We have a full- time safety officer on staff.
We have less the 1% manhours lost due to injury with a comprehensive back to work program.
For more information on Transcona Roofing Health & Safety Program please contact
safety@transconaroofing.ca
.